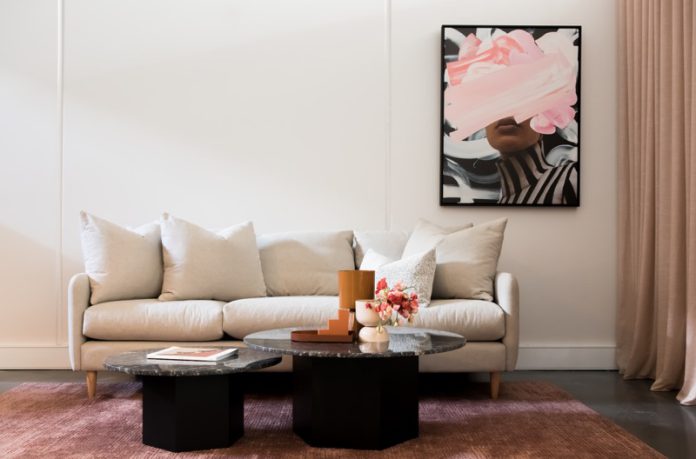 The sofa is undoubtedly the most significant piece of living room furniture. As a result, finding the correct one for your style and demands is crucial. However, there are so many various types of sofas to pick from that it can be challenging to decide which one is ideal for you.
The shape of the sofa and how it blends in with the rest of your living room decor are important considerations choosing a sofa style. In any case, the sofa style you select should evoke a sense of coziness while also reflecting the overall design of your space.
Chesterfield
The Chesterfield is one of the most well-known sofa styles. It was allegedly created in the 18th century to allow "gentlemen to sit upright without wrinkling the fabric." The Chesterfield inspired the more contemporary and boxy tuxedo sofa.
The Benefits: Chesterfields are distinguished by their deep seating, high-rolled arms, and quilted or tufted backing, which give them a rich appearance and a striking silhouette. They're usually made as to the ideal leather sofa, but modern versions are also available in linen and velvet. The Chesterfield has a big frame and is quite massive; make sure you have enough floor room to fit one.
This is ideal for individuals that prefer more conventional sofas or something masculine and timeless in design. A classic and formal decor, a slick industrial area, or a pared-down rustic room all benefit from the Chesterfield.
Bridgewater
The Bridgewater is a traditional couch that stresses excellent comfort and an exquisite shape. Its origins are in England, and it was formerly one of the most popular sofa styles. Although it is becoming less popular in homes, it is still one of today's most comfortable options.
The Benefits: The Bridgewater's trademark plump look and luxurious comfort comes from its slightly rolled back, low-set and rolled armrests, and loose seat cushions. They may also be equipped with a tailed skirt to conceal their twisted legs.
Although the Bridgewater silhouette is broad and deep, it is now available in various bright upholstery fabrics that make it appear more streamlined and less bulky.
It's ideal for those who love bohemian and glam decor who want a sofa with traditional elements and a modern touch. Nothing beats a Bridgewater sofa in a colorful fabric with varied patterns, colors, and decorations in a space.
Lawson
It's no surprise that the Lawson is one of the most popular couch styles for family living rooms. It first arose as a modern and comfy couch design derivative of the traditional tuxedo sofa, low to the ground with a boxy structure in the early twentieth century.
The Benefits: Because it's easy to find in various fabrics, it's one of the most flexible types of sofas. Extra-plush pillows separate from the frame make up the back and seat, indicating a couch meant for soft comfort and support.
It's a terrific sofa if you have kids or want something tight. It is also exceptionally comfortable because it's made up of giant, soft pillows that give you a deep, sink-in kind of support.
It's ideal for any interior style—traditional, modern, or rustic—due to its practical design and diverse fabric options. It's best used in family houses, formal living rooms, and television rooms.
Mid-Century
The Mid-Century sofa is probably the most well-known of all the sofa types featured here. The Mid-Century sofa, which dates back to the 1930s, has made a strong revival in recent years because of its minimalist look and clean lines.
The Benefits: The Mid-Century sofa is one of the few styles of sofas that gives you a customized, streamlined design. It usually features a boxy and slim form, tapered legs, and firm-supporting tuft cushion backs. It's also a sofa that you can customize to your liking.
The Mid-Century sofa is all on aesthetics, which can sometimes come at sacrificing comfort. However, if you're looking for a fashionable and trendy-looking sofa, this is the one for you.
This is ideal for modernists, minimalists, and fans of mid-century design in general. The Mid-Century sofa is perfect for more modern settings with a rustic or glam feel.
Slipcovered
Slipcovered couches are the perfect option if you're looking for a long-lasting and robust sofa. It's a couch style that features a traditional frame, rounded arms, and a fitted fabric cover that you can remove for cleaning. It's all about functionality and ease of maintenance.
The Benefits: The Slipcovered sofa outlasts all other types of sofas in terms of wear, stains, and traffic. The slipcover is not only washable, but it's also removable and replaceable, allowing you to change the cover and modify your look whenever you choose.
While the cover is machine washable and easy to clean, it is prone to wrinkling. Of course, it's all part of the look, but if you like a more fitted look, it's something to think about.
It's ideal for spaces that aren't overly adorned or overflowing with intricate details. Consider a beach house living room, a light, airy rustic family room, or a relaxed boho environment. You see what I mean.
Sleeper Sofa
The sleeper sofa or sofa bed is a workhorse piece since it is the most compact and valuable of all the varieties of couches available.
The Benefits: There aren't many other sorts of couches that provide you and your visitors with a sleeping option hidden behind the seat cushions. Futons and pullouts are among the beds available, and they're typically more comfortable than they appear.
Unlike the Mid-Century, the sleeper is all about cramming a lot of functionality into a little space. Unfortunately, that implies the emphasis here is on comfort and convenience rather than on excellent aesthetics. There are several stylish contemporary sleepers available, but they are pretty costly.
Sleeper sofas are ideal for modest guest rooms, mixed-use areas such as an office den, or a small apartment living room. Sleepers are typically designed in a contemporary style, so they'll blend in nicely with any transitional or modern home.