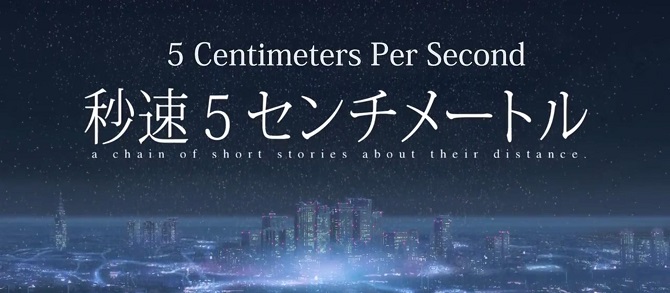 Hello, guys welcome back to our site. Today I want to share about Byōsoku 5 Centimeters Movie Review. I highly recommend you this short anime movie because this movie is really recommended to watch. And if you really like to watch touching anime movie you can watch this movie and don't forget to prepare some tissue because I guarantee you will cry after watching this anime movie.
Byosoku 5 Centimeters Story
Byōsoku 5 Centimeters finished in Japan on 22 January 2007 it's one of romantic drama directed, written and produced by Makoto Shinkai and launched in Japan on 3 March 2007. The film itself consist on 3 Chapter: Cherry Blossom, Cosmonaut, and 5 Centimeters per Second totaling about 1hour movie runtime. The story set in Japan, beginning in the 1990s up until the present day 2008 with each act centered on a boy named Takaki Tōno. The first act takes place during a time when cell phones are uncommon and email had not yet reached the general population. The story set in Japan, beginning in the 1990s up until the present day 2008 with each act centered on a boy named Takaki Tōno.
Chapter 1: Cherry Blossom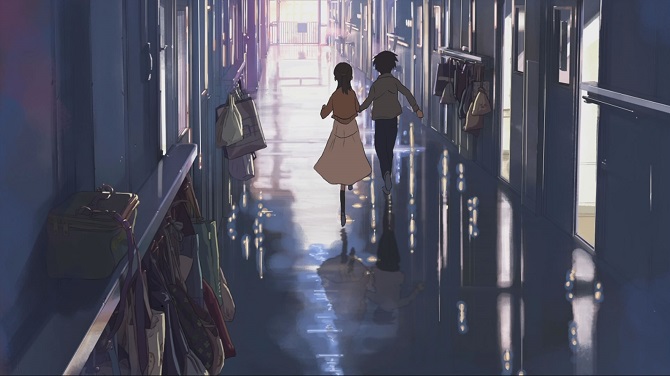 Takaki Tono somehow quickly become friend with newly transferred student Akari Shinohara. Both of them getting closer and closer to each other because both of them sharing the same interest and attitudes and somehow both of them sharing same seasonal allergies. And the result is they share a strong bond between them, they even called each other with their given names which are a sign of a deep relationship in Japan.
Soon after graduating from elementary school Akari moves to Tochigi because of her parent's jobs. But both of them decide to keep in contact by keep writing letter. When Takaki know that his family will move to Kagoshima on the other side of the country, he decides to see Akari by himself. He also prepares a love letter to confess his feeling to Akari. But suddenly he loses his letter during train delay because of a heavy snowstorm.  As the two finally meet and share their first kiss, Takaki realizes they will never be together again. As the train rolls away, Takaki decides that the loss of his letter is not important anymore after the kiss, while Akari silently looks at her own letter addressed to Takaki.
Chapter 2: Cosmonaut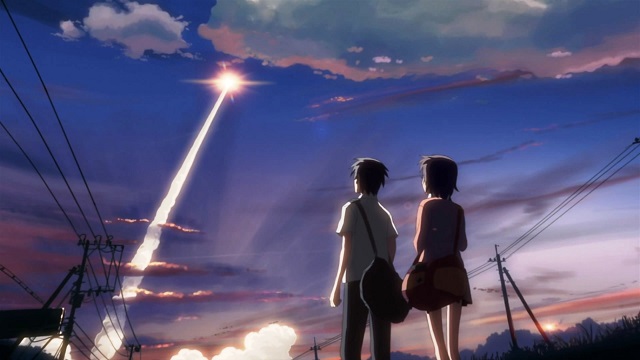 The story set in when Takaki going to graduate in Senior High School in Tanegashima, where Tanegashisma Space Center located. Kanae Sumida one of his classmates had fallen in love with him, but he never brave enough to tell her feeling to Takaki. She always tries to find a way to spending time with Takaki, she even waits after school only to have a walk home together. Kanae somehow realizes Takaki always writing an email to someone. And later shown Takaki's emails are not being sent to anyone. After that Kanae realize Takaki searching for something else far beyond she can offer and give up to try telling Takaki about her feeling. But deep in her heart, she believes she will always love him.
Chapter 3: 5 Centimeters / Second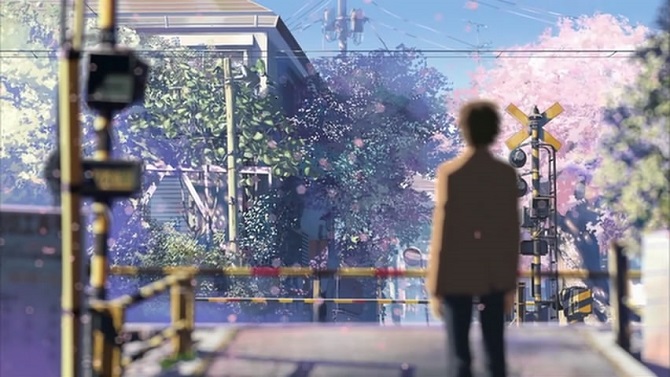 The story set in when Takaki grew up and work as a computer programmer in Tokyo. Depressed Takaki leaves his job because he can't cut his feeling for Akari. Soon he knows Akari will marry another man. Akari goes through her old possessions and finds a letter addressed to her.
One day while walking down a road, by accident Takaki pass Akira and recognize each other when train passing. At opposite sides of the tracks, they stop and begin to look back, but the passing trains cut off their view. Takaki waits for the trains to pass and sees that Akari is gone. After a moment, he smiles to himself and continues walking.
5cm/sec movie receive an award in Japan as Best Animated Feature Film at 2007 Asia Pacific Screen Awards. And there are still a lot of lessons you can learn if you watching this movie. This is the end of my Byōsoku 5 Centimeters Movie Review I hope you enjoy it. Happy watching guys.