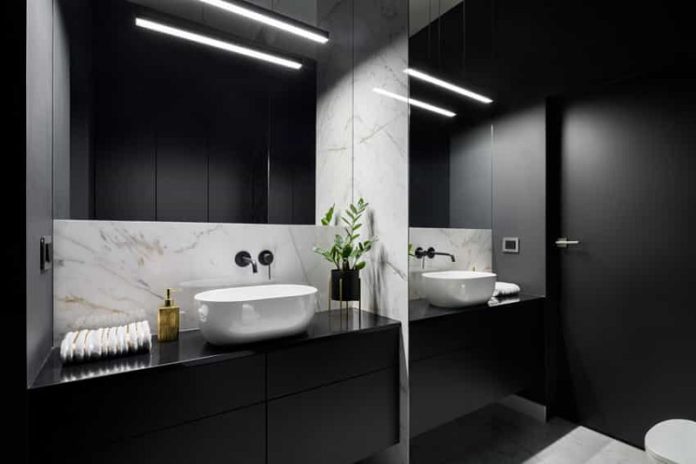 Kevindailystory.com – Choosing a black vanity sink is a good option if you want to get a modern, contemporary look. While there are some options that may look better in a modern bathroom, such as black porcelain, you can also choose a matte black sink that will match almost any decor.
Making Bathroom Color Schemes Sophisticated and Classy
Using black and white as your bathroom color scheme can make for a sophisticated and classy bathroom. You can use different colors to accent the space and make the vanity stand out. This is especially true if you have a dark wooden vanity. Adding wood to the mirror can help soften the black finish and add an earthy feel to the room. Another way to make the most of your bathroom is to install a large mirror. This will add light to the room and make it appear larger. You can also use shower tiles in a creative way to add a splash of color.
A black vanity can also make for a stunning piece of art in your bathroom. It can be paired with a sleek subway shower tile. You can also use an intricate mosaic tile pattern to add interest to your space. Using matte black vanity sinks in a bathroom is a great way to add style to your space. Matte finishes are easy to clean, and can complement a variety of other colors in your bathroom. You can use matte black bathroom sinks in any bathroom design.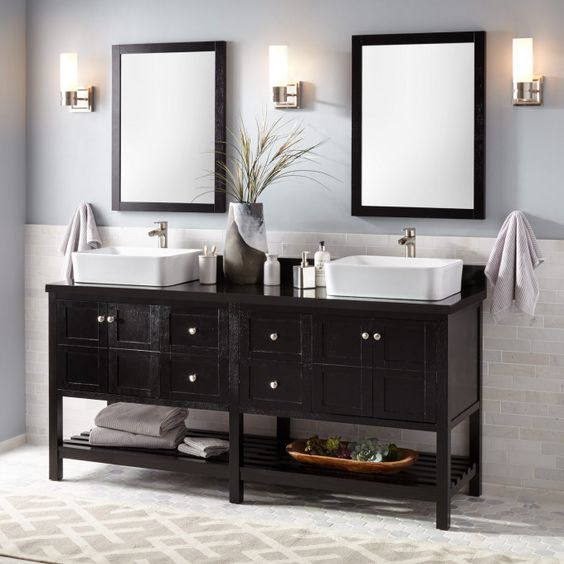 Matte black bathroom sinks are easy to clean, and are highly resistant to scratches, stains, and moisture. You can use a soap based cleaning solution, such as a pH balanced soap. This helps minimize chemical buildup and minimize water spots. It is also recommended to wipe down the sink after every use. Unlike chrome faucets, matte black faucets are affordable and can complement a variety of bathroom designs. This makes them an ideal choice for families.
Matte Black Faucet Available In Various Styles
Matte black faucets are also available in a variety of styles, from traditional to rustic to ultra-modern. The best way to clean these faucets is by following the manufacturer's instructions. Whether you are planning to remodel your bathroom or simply want to make your bathroom look more elegant, a wall mounted sink can be a great choice. They offer many benefits, including space saving benefits, straight lines, and sleek design.
Wall mounted sinks are also ADA compliant. This means that they are easier to clean and can be used by people with disabilities. They are also a great choice for guest bathrooms and powder rooms. You can find wall mount sinks in various sizes and designs. You can also find wall mount sinks made from premium materials, such as cast iron or porcelain. These sinks are generally less expensive than conventional sinks. They can be used in both residential and commercial bathrooms. They are often available in multiple colors. They are also easy to install and can be replaced quickly if you wish.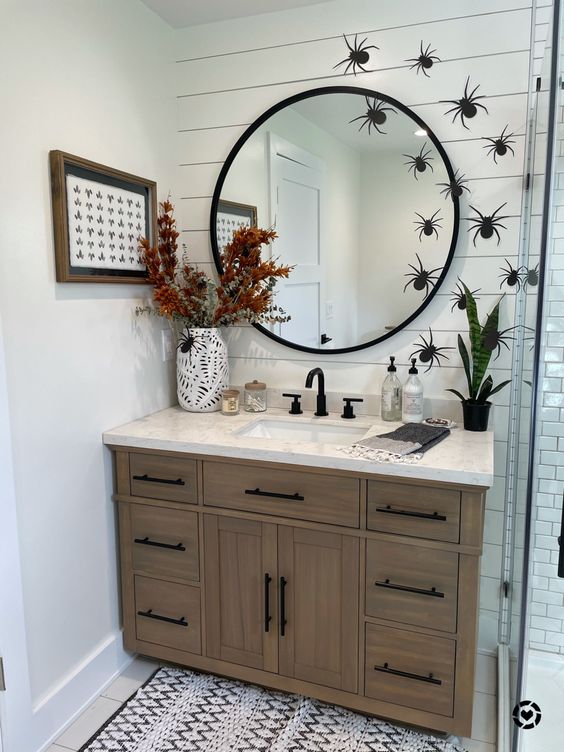 Essentially half an undermount/drop in sink, semi-recessed sinks are the perfect mix of functionality and style. These sinks create a unique centerpiece for any bathroom. They are also a great choice for those who have limited counter space. Semi-recessed sinks are a good choice for those who want a modern bathroom with minimal clutter. They also allow you to use a standard bathroom faucet. Those who want to upgrade their home can add the extra bit of style and function with a deck-mounted faucet.
Sink with a Minimalist Design in Bathrooms
If you have the room, a wall-mounted sink can add a touch of class to your bathroom without taking up valuable counter space. These sinks are also great for minimalist designs, especially if you have a large vanity. These sinks can also be used in the kitchen. The best part is that they are easy to install. They require little skill and can add a touch of class to any space.
Adding a farmhouse-style bathroom vanity sink to your bathroom is an easy way to add some rustic charm to your space. These bathroom vanity sinks are available in a variety of materials, including stainless steel, porcelain, and cast iron. They also provide an efficient workspace for food preparation and cleaning. Farmhouse-style bathroom vanities are characterized by a rustic finish, soft elegance, and cheerful colors. They are best paired with vessel sinks, but traditional undermount sinks look great as well.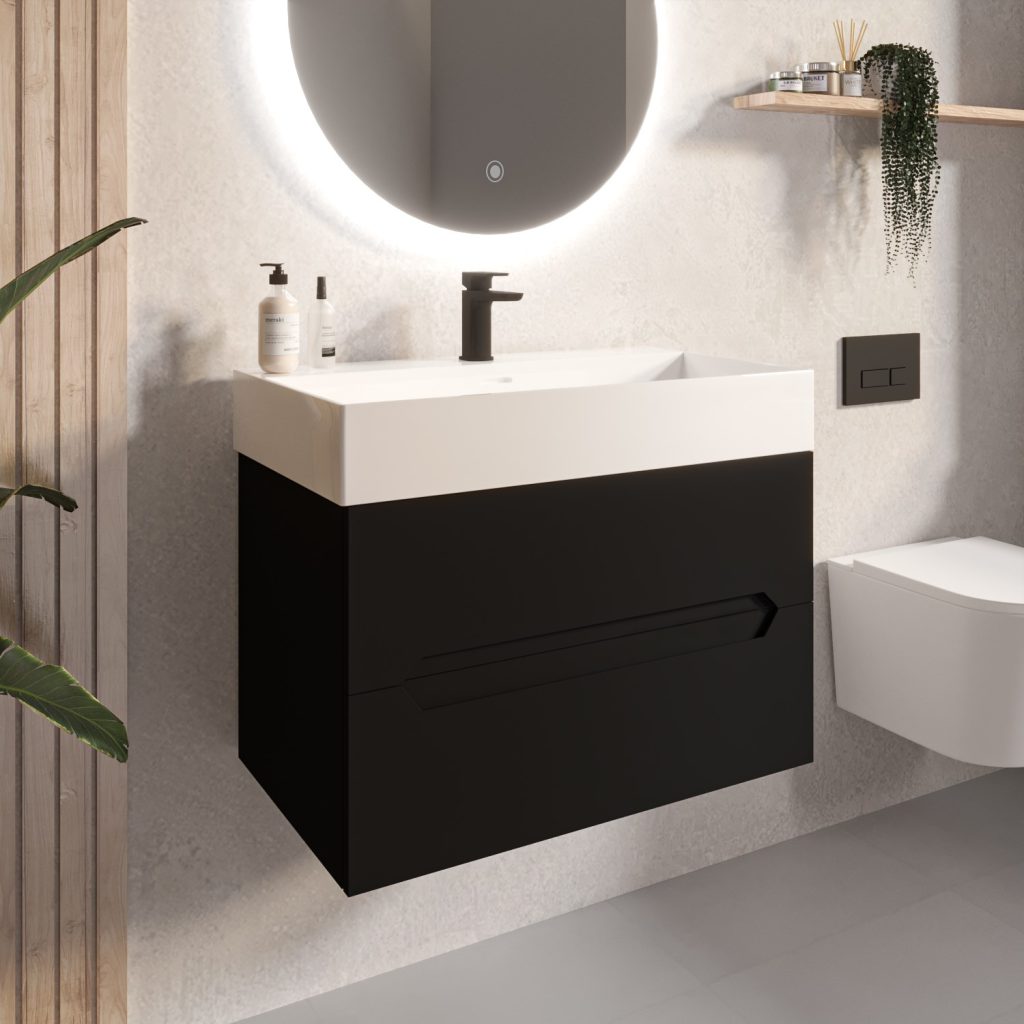 Houzz carries a wide selection of farmhouse bathroom vanity sinks. Customers can shop by brand, style, material, or unique feature. You can even mix and match these sinks to create a unique look in your bathroom. Jenna Sue Design recently renovated a historic Westchester farmhouse bathroom. This bathroom features a large farmhouse sink, an octagonal dark wood table, and a vintage clawfoot tub. The bathroom also features strong black accents that contrast with white subway tile walls.