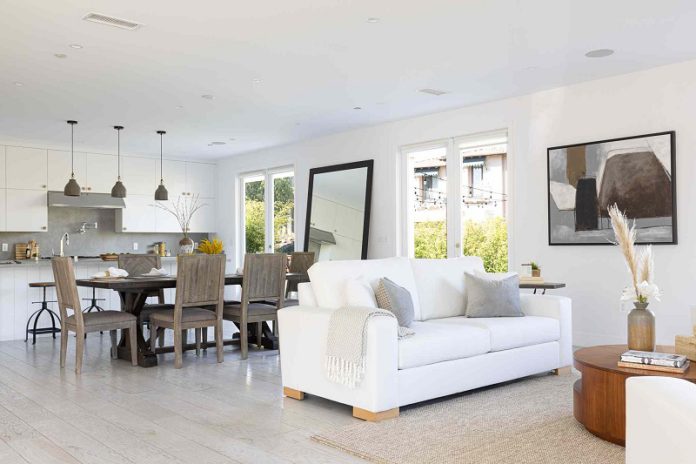 Kevindailystory.com – Creating distinct spaces in an open-concept living room dining area can be challenging. Luckily, there are plenty of tricks you can use to make it work.
The Right Combination of Living Room and Dining Room
Often, it's the furniture that sets the tone for each room. This is particularly important when you're dealing with a living room and dining room combo. When working with an open-concept floor plan, large furniture pieces can help define the living-dining room as distinct areas. Rather than using screens or other room dividers, which can ruin an airy open layout, simply install the back of your couch to serve as a space divider without sacrificing the flow of the layout.
Bold colors, cozy textures, and modern design elements blend in this inviting family-friendly living room. A tufted sofa and cowhide area rug provide textural contrast with dark paint walls and built-ins. Styling the built-ins with books and layered picture frames helps soften the visual impact of the dark paint color.
The key to keeping an open-concept layout feeling cohesive is in the decor. A bold chandelier over a dining table and casual floor lamps in the living room serves to distinguish the space as distinct rooms while also adding a sense of cohesion. Mixing styles and themes is also an easy way to keep the space from feeling overcrowded. In this living room, floral-print pillows and boat and fish-themed wall decor help create an eclectic yet pulled together look.
Creates Visual Boundaries Between Zones
The dining room should be a place for the family to bond over dinner or entertain guests, so it's important that your layout gives this space plenty of foot traffic. Keeping furniture clear of walkways will help people move around without bumping into each other or tripping over things. Another way to make the two rooms feel distinct is by using different flooring or a rug that creates a visual boundary between the zones. This works well if the living and dining areas have very different aesthetics.
Choosing furniture and decor that are compatible with both spaces is an ideal way to merge a tandem living and dining room. This can be as simple as having a rattan table that doubles as a coffee table or using wallpaper that complements your dining room chairs. The more items you incorporate that function as dual-use pieces, the less clutter your room will have and it will be easier to find a cohesive look for your combo room.
Fireplaces are a beautiful focal point that can add visual intrigue to your living room. They are also a cozy place to gather in winter. Whether you have an actual working fireplace or a pretty but nonfunctional decorative one, using it as the focal point for your living space will set you apart from other interior design ideas. Other interesting architectural elements like bay windows or doors are another way to aesthetically separate your living room from the dining area. Choosing a neutral color palette to flow through both rooms can help too.
Sleek Design Helps Keep Multi-Purpose Spaces Light and Airy
For a truly integrated space, opt for furniture that has multiple functions, like this sofa from Studio SIR Development. It serves as a seating area and dining table, plus has storage for books and board games. The streamlined design helps keep the dual-purpose space light and airy. This is especially important if you have limited square footage to work with. The internet is rife with cautionary videos of flat screens shattering and eliciting wails of despair from their owners. With a few basic tools and a bit of patience, however, you can hang your TV wall mount safely and affordably, saving hundreds in professional installation.
To begin, locate the wall studs where you want to mount the TV using an electronic stud finder (Photo 1) or by removing covers from electrical outlets and feeling for wood behind them. If you're mounting your TV in a corner, consider a specially designed articulating mount.
Remove the stand from the TV and use a level to establish the desired height for your TV on the wall. Determine if the mounting plate on the back of the TV is attached to the mount by lining up the plates' attachment holes with each other. Then, line up the mount's bracket on the wall and attach it to the TV. The mount's instructions will vary, but typically include step-by-step directions for connecting the two. If you wish to send your article to kevindailystory, you can check out this page!