Kevindailystory.com – In the last half-century, industrial interiors have become a staple in design, offering a minimalist and function-over-form approach.
Making Industrial Spaces Feel Comfortable and Friendly
Using a variety of textures and colors can make an industrial space feel cozy and welcoming. You can also use repurposed pieces of furniture to create this look. This style is perfect for loft apartments, modern homes and even commercial spaces. It showcases neutral tones, utilitarian objects and wood and metal surfaces.
Repurposed furniture is an eco-friendly and cost-effective way to give older pieces a new life. This can include restoring and refinishing a piece, or modifying it into something new and unique. Industrial house design interiors often feature repurposed furniture. This includes reclaimed wood coffee tables, caster-equipped end tables, and industrial-style bookshelves made from reclaimed materials.
Upcycled furniture is a great way to add the ruggedness of an industrial home design style while maintaining the practicality that characterizes it. It's easy to find reclaimed furniture at thrift stores, flea markets and garage sales. If you have mismatched chairs that have been collecting dust, repurpose them into one-of-a-kind seating by adding plywood to the top of each chair and a piece of fabric to the bottom. It's a simple way to make your home feel more whimsical and welcoming. This seating solution works well both indoors and out! Pair it with colorful flowers to turn the piece into a fun garden accessory.
Furniture and Accessories Are Popular Interior Design Choices
Industrial house design interiors feature lighting that is meant to be viewed rather than covered and hidden. This style often includes metal furniture and accessories and Edison light bulbs. Edison light bulbs are a popular choice for this type of interior design because they emit a warm golden glow that shows off their filaments' unique shapes and squiggly wire inside. They're also a great option for any space where you want to show off some vintage charm.
However, they do have a slightly lower color temperature than standard bulbs, so they may not illuminate the room as well. Additionally, they're not as energy efficient as modern LEDs or CFLs. If you're looking to incorporate Edison light bulbs into your home, consider investing in a few high-quality LEDs instead. These will provide you with a more even spread of light and are much less likely to break than traditional bulbs. And they'll last a lot longer!
Many industrial house design interiors use exposed brick as a detail. It adds visual interest and is a great accent for a variety of design styles. Exposed brick walls can be painted in a wide range of colors. They're a good choice for modern farmhouses and vintage-inspired design styles, but they also work well with eclectic and Scandinavian styles.
Leaving the Wall Bare and Giving It a Rough Texture
Another option is to leave the wall bare and give it a rough texture. This is more natural and looks great in Morocco-styled interiors. If you're looking to paint your brick wall a bright color, consider a limewash. This coating offers a breathable finish that softens the red of the brick without making it too opaque.
Concrete flooring is a great option for industrial house design interiors, as it is durable and tough. It also looks beautiful and works well with any other flooring material. This type of floor is usually created by grinding a structural concrete slab or overlay and then applying one of several polishing, colorizing, or texturing techniques. These include honed, acid-stained, and dyed surfaces.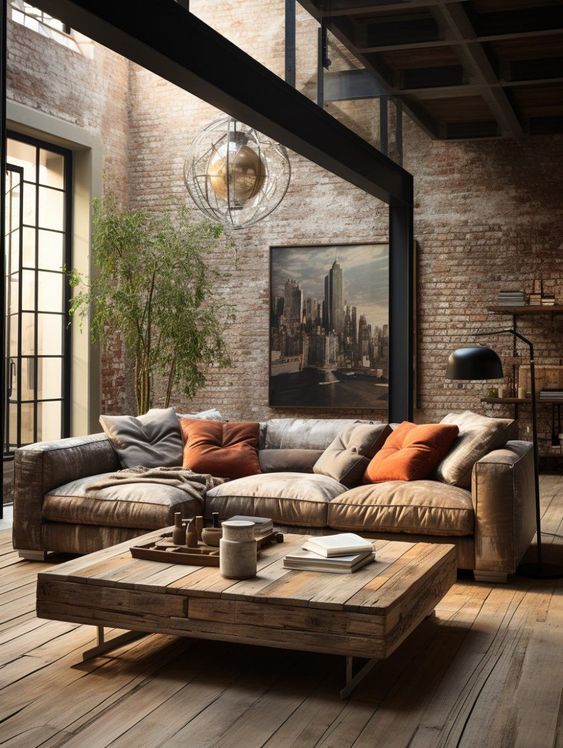 Unlike marble, which is naturally white, concrete can be colorized to match any decor style. This can be done by using concrete stains (pigments that penetrate and color the concrete), or by including color in the concrete mix before it is poured. Light grey concrete floors are perfect for minimalist spaces, as the lighter color allows other furniture and decor to stand out. They also help create that open feeling we're all familiar with in minimalist design spaces. If you have and want to send articles to kevindailystory, you can visit this page!